Giovanna,
If ther are 45 or fewer students then one bus will be sufficient. Once there are 46 students you need a second bus and that will be sufficient until you have 91 students and then a third bus will be required. Hence the graph goes up in steps.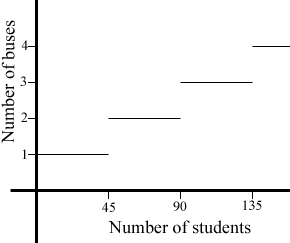 Penny
Giovanna, I hope you realize that this is not trig...
Anyhow, the only tricky bit here is dealing with the fact that both people and buses only come in whole-number quantities. So for 1 person, 2 people... up to 45 people you need exactly 1 bus.
And there should only be points for 0,1,2,... people; the graph should consist of dots, not one or more lines. It starts off a bit like this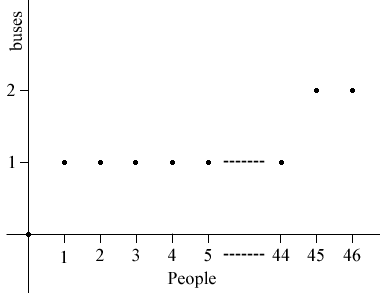 Good Hunting!
RD
Giovanna,
RD is correct, I should have plotted dots rather than lines.
Penny