Hi Racquel,
You do need to use the Z score but you have applied it incorrectly. You know that the times that students spend on homework is normally distributed with a mean of 18 hours and a standard deviation of 3 hours. You don't know how many hours Diane spends so let's call it X hours. It is this value that you need to convert to a Z score using
Z = (X - 18)/3.
Now you have a standard normal random variable. In the diagram below you want the value S so that the area under the curve, to the left of S is 75% or 0.75.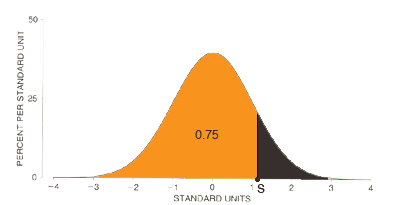 Use you normal table to find the value of S and the solve the equation
(X - 18)/3 = S
for X.
I hope this helps,
Penny