Hi Cyndi,
You are to form the four digit number using the digits a, b, c and d is the diagram below.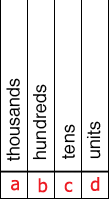 The key here is the two digit number formed from the digits c and d. This is the largest prime number smaller than 40.
Is 39 a prime? No since $39 = 3 \times 13.$
Is 38 a prime? What about 37 and 36 ...?
Now you can find the hundreds digit b.
If you don't know the number of faces on an icosahedron then look it up on the internet.
Penny