It is very easy to show that six colors suffice, and five is not much harder -- indeed, the proof that five colors suffice can be found in many elementary textbooks and expository articles. It is also easily seen that three colors are not enough -- in fact, four are needed to color Bolivia and its five neighboring States (Brazil, Peru, Chile, Argentina and Paraguay). As Francis Guthrie long ago observed, every map with only a small number of countries can easily be colored with only four colors; the challenge is to prove that four colors suffice for every conceivable map.
The proof that every planar map is four colorable was achieved in 1976 by Kenneth Appel and Wolfgang Haken, working together at the University of Illinois at Urbana-Champaign with the substantial help of a computer. An expanded version of their proof, including numerous corrections and philosophical comments, is found in their later monograph Every Planar Map is Four Colorable, Contemp. Math., vol. 98, Amer. Math. Soc., Providence, RI, 1989. Their accomplishment was announced at the University of Toronto during the 1976 summer meeting of the American Mathematical Society. The announcement set off a debate concerning the nature of mathematical proofs.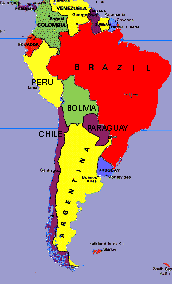 Even though no human has every gone through Appel and Haken's entire proof, there is no doubt today that the result is correct. It has been independently checked using different techniques and different computers. For the latest word see Robin Thomas, An Update on the Four-Color Theorem, Notices of the Amer. Math. Soc. 45:7 (August 1998) 848-859 (an authoritative expository article that contains the historical and philosophical background together with an outline of the relevant mathematics and a discussion of the various proofs). On the other hand, to many mathematicians a proof must explain why the result must be true; all current proofs of the four-color theorem are a long way from that criterion.
There is an elementary text (in English) devoted to the theorem.

David Barnette, Map Coloring, Polyhedra, and the Four-Color Problem. The Dolciani Mathematical Expositions,8. Mathematical Association of America, Washington, D.C. 1983.

For those who read German, there is a somewhat more sophisticated, delightfully written account giving both the historical and mathematical background for the non-specialist.

Rudolf Fritsch, Der Vierfarbensatz: Geschicte, topologische Grundlagen und Beweisidee. Bibliographisches Institut, Mannheim, 1994.