Women in Mathematics
As part of its celebrations of the World Mathematical Year in 2000, the Canadian Mathematical Society sponsored the creation of a poster on women in mathematics.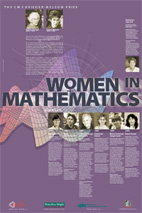 The poster features six outstanding women mathematicians who were awarded the Krieger-Nelson prize from 1995 to 2000. This prize is awarded annually by the Canadian Mathematical Society for distinguished research by women in mathematics and honours the careers of Cecelia Krieger and Evelyn Nelson.
To see full size version of the poster, in Adobe Acrobat format, click here.
More information on women in mathematics can be found on the following websites:
The Canadian Mathematical Society
The Pacific Institute for the Mathematical Sciences
The Association for Women in Mathematics