Hi Daryl,
The extra piece of information you have is enough to find the length of the arc.

Join the endpoints of the arc to the center of the circle and let r be the radius of the circle. The diagram is then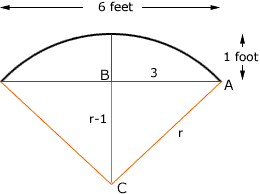 The triangle ABC is a right triangle and hence, by Pythagoras' Theorem
32 + (r - 1)2 = r2 or
9 + r2 - 2 r + 1 = r2
Thus r = 5.
The angle BCA is thus cos-1(4/5) = 0.6435 radians and hence the angle at the center of the circle subtended by the arc is 1.287 radians.
The length of the arc is given by
arc length = r theta
where theta is the angle subtended by the arc in radians. Thus
arc length = 5 1.287 = 6.436 feet.
Penny