Hi Tanya.
The median goes from a vertex to the midpoint of the opposite side.
Use the midpoint formula (that is just the average of the x values and the average of the y values of B and C) of the opposite side to determine the midpoint.
Then use the point-point form of a line equation with the vertex A and this midpoint to answer the question.
Point-point form: If the two points are (x1, y1) and (x2, y2), then the equation of the line through them is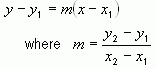 You may want to convert the equation into standard form Ax + By = C as your final answer.
Cheers,
Stephen.