Mathematics Glossary - Middle Years
Maxine Stinka, Saskatchewan Education, Curriculum and Instruction
Note: The definitions included here are those that are used in the Saskatchewan Education document "Mathematics 6-9: A Curriculum Guide for the Middle Level".
Various mathematics dictionaries may have different definitions. These definitions are designed to be meaningful to middle level mathematics teachers.
---
Select the first letter of the term that you wish to look for.
A | B | C | D | E | F | H | I |

J

|

K

| L | M | N | O | P | Q | R | S | T | U | V | W |

X

|

Y

|

Z
---
L
like terms
linear equation
an equation whose graph is a line, that is, an equation that has a degree of one.

e.g. y = 3x - 2
linear growth
Linear growth means that a quantity grows by the same amount in each step. For example you might have something that is 5 inches long on Monday morning and then 8 inches long on Tuesday morning and then 11 inches long on Wednesday morning and so on. So it is growing by 3 inches a day. If you draw a graph with the days on the horizontal axis and the height in inches on the vertical axis then the points lie on a line. This is why it is called linear growth.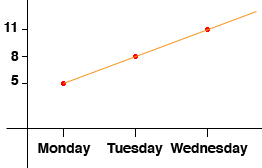 line of symmetry
a line that divides a figure into two parts, each a mirror image of the other.
---
M
median
mental calculation
mode
monomial
a number, a variable or a product of numbers and variables.
multiplicative inverses(reciprocals)
---
Questions or comments about the glossary can be directed to TheCentralizer@MathCentral.uregina.ca or see About Us page for more information.