Mathematics Glossary - Middle Years
Maxine Stinka, Saskatchewan Education, Curriculum and Instruction
Note: The definitions included here are those that are used in the Saskatchewan Education document "Mathematics 6-9: A Curriculum Guide for the Middle Level".
Various mathematics dictionaries may have different definitions. These definitions are designed to be meaningful to middle level mathematics teachers.
---
Select the first letter of the term that you wish to look for.
A | B | C | D | E | F | H | I |

J

|

K

| L | M | N | O | P | Q | R | S | T | U | V | W |

X

|

Y

|

Z
---
P
a ratio where the second term is 100.
perfect square
a whole number that is the square of an integer. e.g. 25 is a perfect square because 5 X 5 = 25.
perpendicular
pi
plane of symmetry
a plane that divides a 3-D object into 2 parts, each a mirror image of the other.
an expression consisting of one or more terms, including some variable(s).
E.g. 3 x2 - 2 x + 1.
in statistics, population refers to the entire group about which data are being collected.
power
primary data
data obtained directly using methods such as a survey or an experiment.
a geometric solid with two bases that are congruent, parallel polygons and all other faces are parallelograms. It is referred to as a right prism if the faces are rectangles. A prisms is named according to the shape of its bases. e.g. triangular prism
proper fraction
a fraction whose numerator is less than its denominator.
proportion
protractor (circular)
protractor (semi-circular)
Pythagorean Theorem
in any right triangle, the square of the length of the hypotenuse equals the sum of the squares of the lengths of the other 2 sides.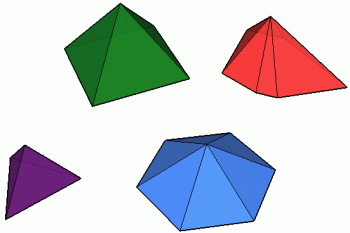 ---
Q
quadrant
when the axes are drawn in a coordinate plane, the plane is divided into 4 sections called quadrants.
quadrilateral
quartile
---
---
Questions or comments about the glossary can be directed to TheCentralizer@MathCentral.uregina.ca or see About Us page for more information.